We're Born the Way We're Born
Did You Know:
83% of the population needs glasses to see

32% of the population is born blue-eyed

25% of the population is born with attached earlobes
15% of the population is born left-handed
10% of the population have "outie" belly buttons
8% of the population have more than two nipples
4% of the population is born with red hair

6% of the population is born gay, according to the US Census Bureau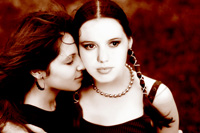 Did You Also Know:
Use of the rainbow flag by the gay community began in 1978 when it first appeared in the San Francisco Gay and Lesbian Freedom Day Parade. Borrowing symbolism from the hippie movement and black civil rights groups, San Francisco artist Gilbert Baker designed the rainbow flag in response to a need for a symbol that could be used year after year.
Baker and thirty volunteers hand-stitched and hand-dyed two huge prototype flags for the parade. The flags had eight stripes, each color representing a component of the community:
hot pink for sex
red for life
orange for healing
yellow for sun
green for nature
turquoise for art
indigo for harmony
violet for spirit
In more modern version of the Rainbow Flag, two of the stripes have been omitted, the pink and the indigo. There is not a lot of history on why these colors were removed, but the 6 color flag is now the accepted norm.
Information published on The Rainbow Babies website is not a substitute for proper medical advice, diagnosis, treatment or care. Always seek the advice of a physician or other qualified health providers with any questions you may have regarding a medical condition.
Disclaimer: The Rainbow Babies provides sample contracts and legal/social health articles for informational purposes only—please do not consider it as legally-binding advice of any kind.