On Legal Gay Marriage
On November 18, 2003, the Supreme Judicial Court of Massachusetts decided the case of Goodridge v. Department of Public Health, and, for the first time in the history of the United States, allowed same-sex marriage. The Court said:
Marriage is a vital social institution. The exclusive commitment of two individuals to each other nurtures love and mutual support; it brings stability to our society. For those who choose to marry, and for their children, marriage provides an abundance of legal, financial, and social benefits. In return it imposes weighty legal, financial, and social obligations. The question before us is whether, consistent with the Massachusetts Constitution, the Commonwealth may deny the protections, benefits, and obligations conferred by civil marriage to two individuals of the same-sex who wish to marry. We conclude that it may not. The Massachusetts Constitution affirms the dignity and equality of all individuals. It forbids the creation of second-class citizens. In reaching our conclusion we have given full deference to the arguments made by the Commonwealth. But it has failed to identify any constitutionally adequate reason for denying civil marriage to same-sex couples.
Over 8,100 couples have married in Massachusetts since May 17, 2004, when Goodridge took effect. The victorious celebration that followed the Goodridge decision and the predictable backlash has energized the lesbian and gay community across the country. Despite stepped-up efforts to enact harsh anti-gay laws across the country, our community continues to push forward to secure and protect our rights.1
What's Happening Around the Country (and the World)
Three states have adopted either a domestic partnership law (California) or civil union laws (Vermont and Connecticut). Domestic partnership grants same-sex couples most (if not all) of the rights associated with marriage, but not marriage itself.2 Same-sex couples have won some limited spousal-like rights in the District of Columbia, Hawaii, Maine, and New Jersey. Numerous municipalities and businesses now offer some limited domestic partner benefits to employees.
Finally, a number of foreign countries have granted marriage or domestic partnership rights to their same-sex citizens.3
Defense of Marriage Act (DOMA)
It is important to understand that, while it is essential for same-sex couples to have all the protections provided by domestic partnership or civil union, this status is not the same as marriage. Marriage is the only status that will ultimately allow same-sex couples to have access to the 1,138 federal rights to which we are now denied. In 1996, the Federal Government enacted the Defense of Marriage Act (DOMA) (signed into law by then-President Bill Clinton). DOMA defines marriage as the legal union of a man and a woman, defines spouse as a husband or wife of the opposite sex, and provides that states do not have to give effect to the laws of any other state with respect to same-sex marriage. Until DOMA is overturned, same-sex couples will continue to be denied all of the federally-based benefits of marriage and individual states can continue to deny recognition to same-sex couples. As if this weren't enough, Congress is currently debating a federal constitutional amendment, an effort widely expected to fail.
45 states also have Defense of Marriage Acts.4 Some of these so-called "mini-DOMA's" are particularly over-reaching in their effect. For example, the Virginia law applies to all unmarried couples and would deny recognition of both civil unions and marriages from other states. It is drafted so broadly that it could be interpreted to deny partners any right to visit during hospitalization and deny the protections of domestic violence laws to all unmarried couples. The Ohio law has already been interpreted to deny restraining order protection to a woman in an unmarried heterosexual relationship.
LGBT legal advocates continue to challenge existing anti-gay laws and pursue equal marriage rights across the country. There are marriage lawsuits currently pending in California, Connecticut, Iowa, Maryland, New Jersey, New York, and Washington. A marriage case is also pending before the Court of the Cherokee Nation.
What's Happening in Massachusetts
There have been some significant events since marriage became legal in Massachusetts. Attempts to undermine the decision continue and a ballot question to ban same-sex marriage is making its way through the political process. The Massachusetts Supreme Judicial Court has recently ruled that an antiquated statute can be used to prohibit non-residents from marrying in Massachusetts, if the states where they live would not allow the marriage. Litigation is ongoing to determine whether those who live in jurisdictions that have yet to weigh in on the issue may be able to marry in Massachusetts.5
What are some of the rights of marriage?
Marriage, under Massachusetts law, allows couples access to a myriad of rights that affect us on a daily basis. Examples include the right to file joint state tax returns; the right to own property as 'tenants by the entirety,' a form of ownership that provides greater protections against creditors; the right to access family health insurance coverage through your employer; the right for one spouse to remain in the marital home when the other spouse goes into long-term nursing care without a lien being placed on the home; automatic health care proxy for one another; access to state-based family medical leave; access to worker's compensation benefits upon the death of the employee spouse; the ability to be named as beneficiary on a municipal or state retirement policy; the right to sue for wrongful death; the right not to be forced to testify against one another; access to stronger protections under the abuse prevention laws; access to any benefits provided to spouses and dependents through public or private employers.
Massachusetts lesbian couples who have had children since their marriages have had the unique experience of being able to list both of their names as parents on the birth certificates because a child born into a marriage is presumed to be the legal child of both spouses.6
However, despite this presumed legal relationship, these couples must pursue a co-parent adoption. This is because the presumed legal relationship will not be recognized by any state that has a Defense of Marriage Act or by the Federal government. Thus, without an adoption judgment, federal benefits such as social security death benefits or the ability to claim a non-biological child as a dependent would be unavailable. Without an adoption, you may be at risk when traveling through states that do not recognize your marriage.7
What are the Obligations of Marriage?
With the rights of marriage come certain obligations and restrictions including, for example, the responsibility to support one another; the imposition of certain ethical restrictions and financial disclosures for state employees; the possibility that a spouse may be held indirectly responsible for the 'bad acts' of his/her spouse or be responsible for payment of a spouse's debts for 'necessities' and for payment of separately-incurred personal or business debts in the context of a separation or divorce; the inability to sue your spouse for negligence.
Same-sex married couples have no access to any of the 1,138 federal benefits available to heterosexual couples including, for example, social security death benefits, veterans' benefits, and the ability to file joint federal tax returns. Similarly, these marriages will not be recognized by any state with a mini-DOMA and same-sex couples will be treated as legally unrelated.
Breaking Up is Hard to Do
One of the benefits of marriage is, ironically, access to the divorce laws, which while not perfect, do provide a structure to the end of a relationship. Without access to the divorce laws, the termination of lesbian and gay relationships can be extremely difficult, costly and tremendously unfair. Some couples may wish to enter into prenuptial agreements before they marry in order to preserve their management of financial affairs and the division of their assets in the event of divorce. A prenuptial agreement is a contract signed by both parties entered into prior to the marriage which basically addresses how your assets and liabilities should be allocated in the event of divorce or death. By entering into a prenuptial agreement you can lend predictability to how your estate will be handled upon death or divorce and you are 'opting out' of the divorce laws that govern the division of assets.
Divorce proceedings will address custody, child support, and parenting arrangements. Generally speaking, the courts will look to what is in the children's best interests in making determinations as to custody and parenting. The courts are accustomed to dealing with custody disputes and equipped to make these difficult decisions if the parties cannot come to an agreement.
Red Flags for couples Considering Marriage
There are a number of situations in which people should not marry:
if you are thinking about adopting children internationally, you should consider waiting until after you have adopted to marry. Marital status must be included in the required Home Study Report and foreign countries will not allow children to be placed with openly gay/lesbian people.
If you are in the military, getting married is almost certainly a violation of "don't ask, don't tell" and you may face discharge.
If you are receiving any income-based benefits (such as Section 8 housing), your spouse's income would be included in the determination of continued eligibility and there may be a loss of benefits.
Bi-national couples should not get married. Unlike heterosexuals, lesbian/gay citizens cannot sponsor a spouse for citizenship. In addition, simply getting married may threaten the non-citizen's status. This could lead to deportation.
What Does The Future Hold?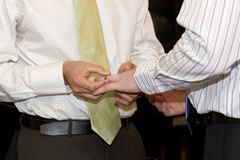 If marriage is to become a reality for same-sex couples throughout the United States, both the state and, ultimately, the federal Defense of Marriage Acts will have to be successfully challenged. It is likely to take several years before this plays out completely and it is very important that the cases that wind their way up the appellate ladder are cases that are strong both legally and factually in order to increase our chances of prevailing in the end. Most gay rights activists and legal advocates agree that DOMA will be overturned. In the meantime, there are two things you can do to help:
Support the organizations that are pursuing this goal by donating to their efforts and by volunteering your time.
Speak up! Contact your elected officials, write letters to the editor of your local newspapers, talk to your friends, families, and neighbors. Stand up for your rights!
Notes
1 There are numerous gay rights organizations around the country who can provide additional information. I encourage you to look at all of the following sites: www.aclu.org/lgbt, www.nclrights.org, www.lambdalegal.org, www.massequality.org, www.glad.org , www.familypride.org, www.hrc.org.
2 In fact, all three of these states – California, Vermont, and Connecticut – have laws defining marriage as between one man and one woman.
3 Marriage is available in Canada, Belgium, the Netherlands, South Africa and Spain. Domestic partnership-like status is available in Croatia, Denmark, Finland, France, Germany, Iceland, New Zealand, Norway, Portugal, Slovenia, Sweden, Switzerland, and the United Kingdom. In Hungary, same-sex couples are covered by common law marriage laws which grant some of the rights of marriage.
4 States that have constitutional amendments banning same sex marriage are: Alaska, Arkansas, Georgia, Kansas, Kentucky, Louisiana, Michigan, Mississippi, Missouri, Montana, Nebraska, Nevada, North Dakota, Ohio, Oklahoma, Oregon, Texas, and Utah. The Nebraska law was struck down by a federal court in May 2005 and is under appeal. Other state DOMA's are similarly being challenged.
States that have legislation banning same sex marriage are: Alabama, Arizona, California, Colorado, Connecticut, Delaware, Florida, Hawaii, Idaho, Illinois, Indiana, Iowa, Maine, Maryland, Minnesota, New Hampshire, North Carolina, Pennsylvania, South Carolina, South Dakota, Tennessee, Vermont, Virginia, Washington, Wisconsin, West Virginia, and Wyoming.
5 New Jersey, New Mexico, New York, Rhode Island and the District of Columbia.
6 The Massachusetts Department of Public Health has not yet revised the birth certificate form, so that the non-biological mother is listed in the space for "father," the word "father" is crossed out, and an asterisk explains that this person is the "second parent."
7 In an example of extreme homophobia, Oklahoma law requires complete non-recognition of adoptions by same-sex couples from other jurisdictions. Fortunately, this law is being challenged and will likely be determined unconstitutional.
Information published on The Rainbow Babies website is not a substitute for proper medical advice, diagnosis, treatment or care. Always seek the advice of a physician or other qualified health providers with any questions you may have regarding a medical condition.
Disclaimer: The Rainbow Babies provides sample contracts and legal/social health articles for informational purposes only—please do not consider it as legally-binding advice of any kind.